GW Apps
A better way to build applications on the Google Cloud Platform
Do you have business process pains?
Do you want to take control of those paper-based or spreadsheet and email processes you still have?
Empowering you to make real business change through impactful apps
No programming or web design experience? Perfect. You're who we wrote GW Apps for.
Be empowered to make a difference. Rapidly build your own apps to solve your business process issues. All without any programming knowledge of any kind.
Solve your own process issues quickly
Create modern, cloud-based and mobile ready business process apps in a snap.
We offer a range of free starter apps (templates), to get you going even faster.
Really Simple – Really
Create rich, functional forms with flexible workflows and strong security: Just drag, drop and configure. No code or confusing jargon. If you know your business process and could build a spreadsheet to store the information, you could build it as an app in GW Apps instead.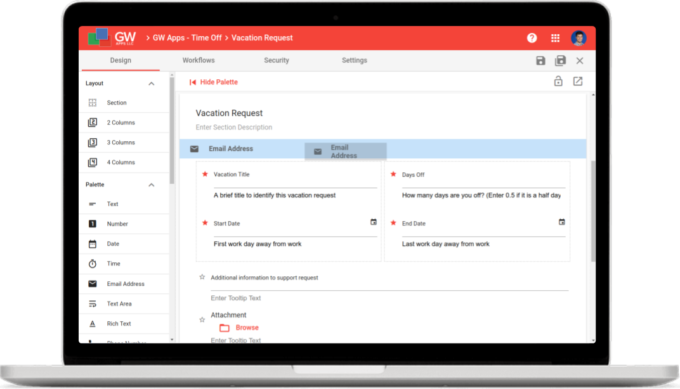 Really Powerful – Simply
GW Apps has a wide range of advanced features, but everything is made just as simple as possible. We spend countless hours in design and user testing to make sure even the most advanced features are clearly structured and explained, right there in GW Apps.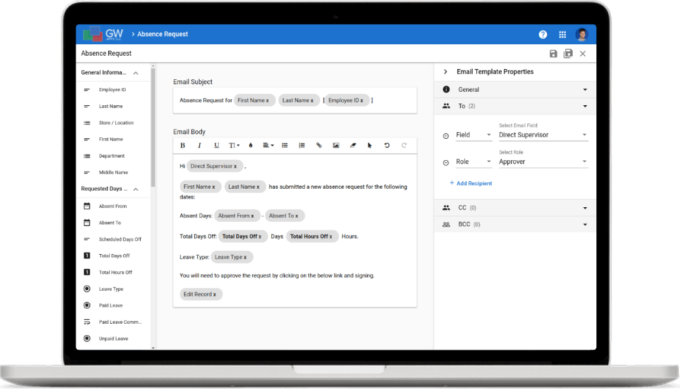 Google Integration & Material Design
App Builder is built with Google Cloud technologies, and is tightly integrated with G Suite. Your G Suite login is you App Builder login, and Google Drive integration is baked right in.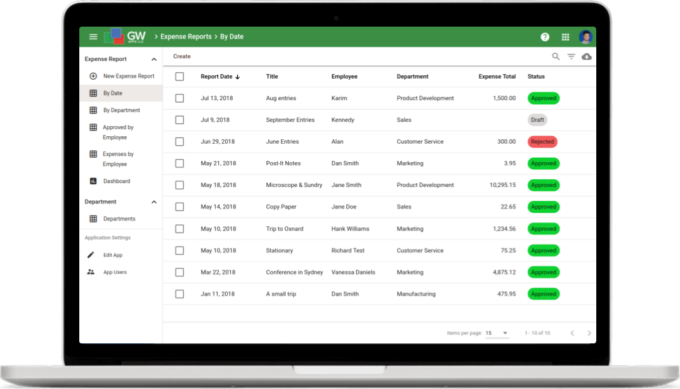 Functionality not Complexity
Data Access
No more islands of data. Security permitting, applications can share data, so you don't need to create the same lookup data in multiple apps.
Powerful Features
Conditional workflow logic, email notifications with record data in them, and embedded data tables are just a few of the powerful features of AppBuilder.
Citizen Development
AppBuilder's power is wrapped in a simple interface, so many apps can be built without the need for a developer.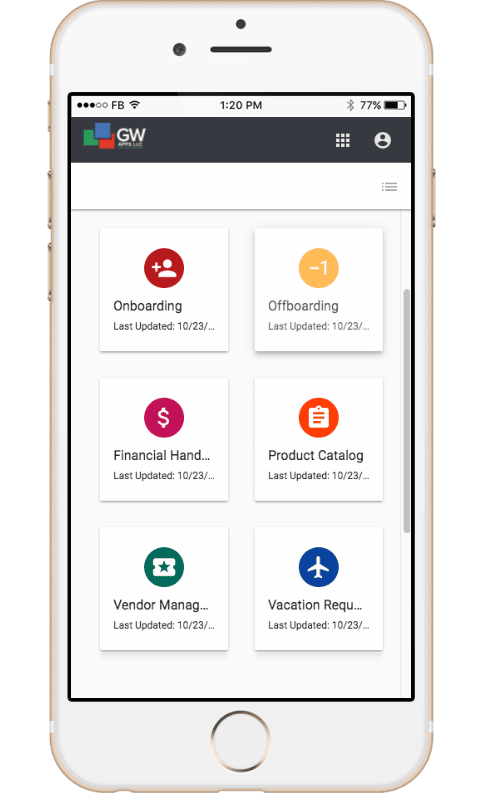 Dashboards and Search
Dashboards allow you to chart data, monitor workflows, create records and more. Custom data views and powerful search keep everything easily to hand.
Mobile Ready
AppBuilder apps are always desktop, tablet and mobile ready, with no additional work.
Secure
Robust role based security allows flexible control and rock-solid protection.
Would you like to see more?
Request a demo