We're often asked about the differences between GW Apps and AppSheet, and which product will offer the best solution.
Both products have unique underlying architectures that make them more suitable for building different types of applications. In this paper we'll look at the relative strengths of both products, as well as the types of applications each is a better fit for.
Architecture - Form Builder vs Data Modeling
GW Apps drag-and-drop form builder offers a visual way for users to build their apps. With multiple layout options and lots of customizability, it enables users to easily build and organize highly functional forms to fit their needs. Forms can have up to 4 columns of fields, and will automatically reformat to fit different screen sizes. GW Apps can also create forms automatically by uploading existing data from a spreadsheet. This initial form can then be easily reformatted and extended to complete the design.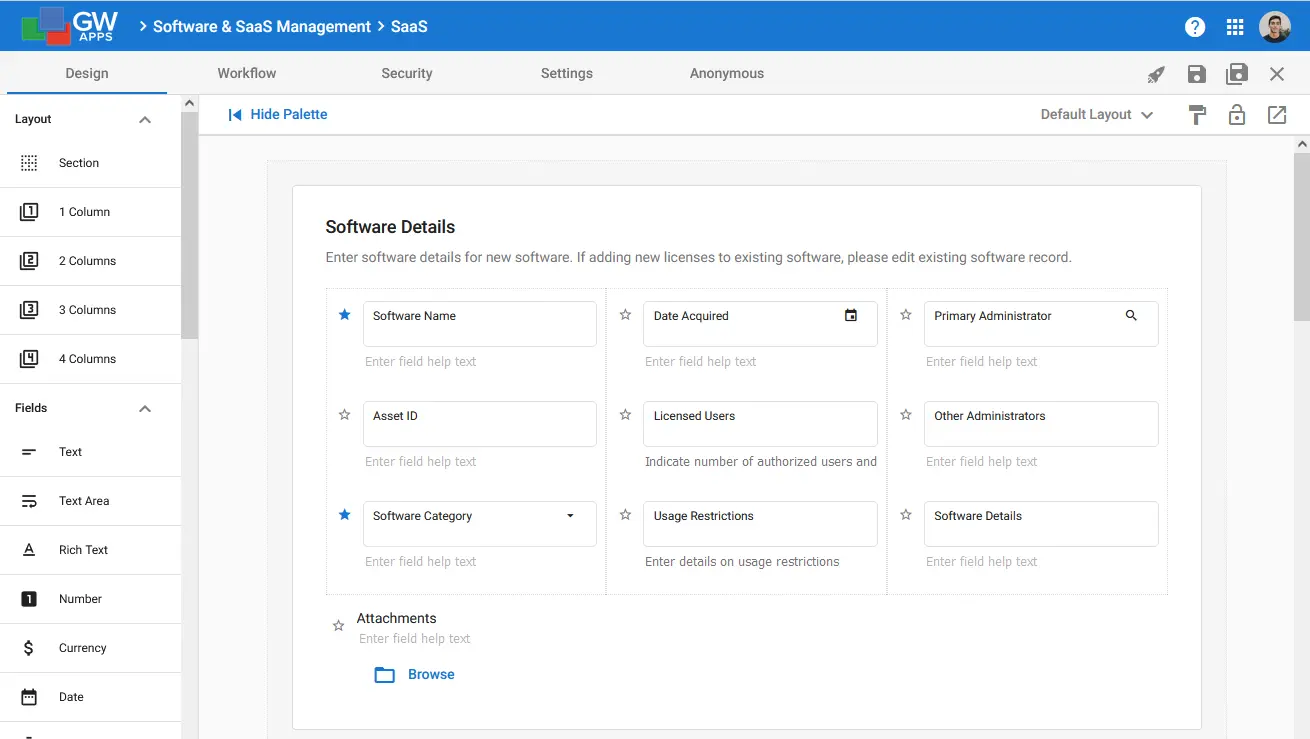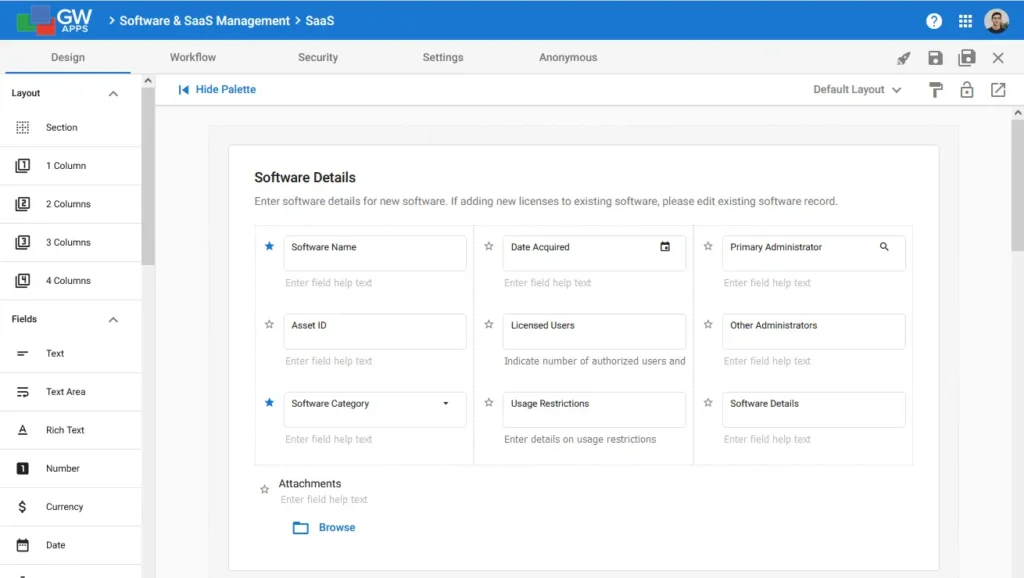 AppSheet takes a data modeling approach that allows you to easily create a front-end apps to work with existing data sources. The form is automatically generated from the data source as a single column of fields in the same order as the underlying table. There are very few options to control how the form is laid out, and no easy way to add non-field elements to your form such as images, dividing lines, labels or sections. AppSheet does offer strong mobility features, making it more suited for users in the field rather than office employees. It is a strong candidate for simple apps that involve onsite data entry like inventory mgmt or inspection.
Workflow and Automated Actions
The GW Apps Workflow Builder allows you to easily model complex business processes (workflows), with features like multiple levels of approval, routing, automatic and scheduled triggers, conditional actions, granular security, and more. User permissions are controlled by custom roles, and each application has its own set of roles. Permissions can be configured all the way down to individual fields at a specific step in the process (i.e., workflow stages), as seen in the image below. GW Apps also allows you to create Shared Global Roles – roles that can be pre-populated with users and imported into any application.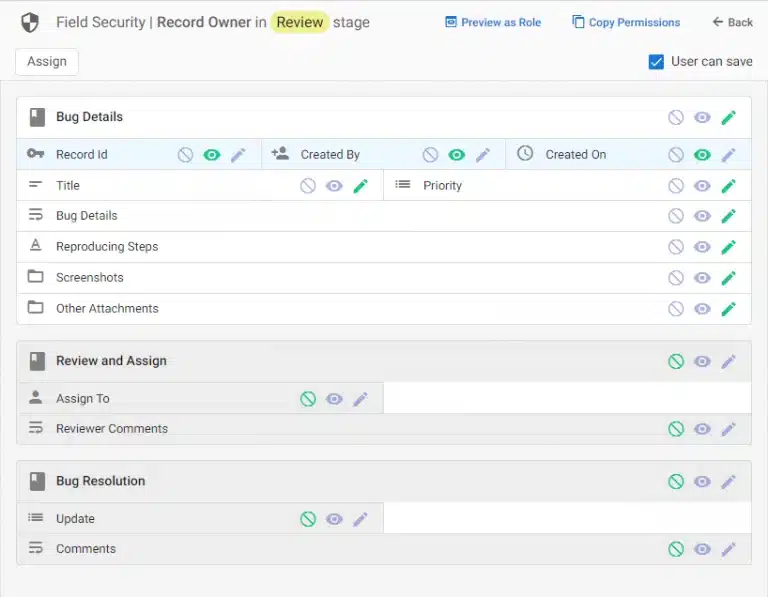 With AppSheet, workflow is created and designed through the use of bots and automation, which combined can create the usual actions of a workflow. There are only two possible roles in AppSheet (Admin and User), and permissions for each apply to a whole type of data (e.g., all sales records or all inspection report records). While it is possible to define access at a row/stage level, to do so you need to program it using AppSheet expressions to define each field's access, and these would get very, very complex to match what's possible via the simple GW Apps form security interface.
GW Apps is designed to be both easy to use and simple to learn, while simultaneously providing features that enable users to build enterprise grade applications. This is achieved through the use of drag, drop, and configure style builders. Even the most complex features in GW Apps have no code, no expression language to learn, nothing but wizard style, pick from list configurations.
Unlike AppSheet, there is no separate data-modeller in GW Apps. As you build a form the data model is automatically created for you, resulting in fewer steps to creating an application and only one interface for creating forms.


Each Appsheet base will always have the same four roles: Creator, Editor, Commenter, and Read-Only. The capability of these roles is not configurable, and no new ones can be added. For users with Pro or Enterprise plans, field level security is available, but without dynamic roles and field level visibility it does not offer the same capabilities or level of flexibility. It is also not possible to give users edit rights to only specific records (rows) in a base. To achieve this functionality the base would need to be split into as many bases as there are different editors. Supporting collaboration within a single base generally requires trusting users to do the right things.

GW Apps offers 4 plans for businesses: A starter plan for 5 users ($50/mo), the SMB value plan for teams of up to 100 users ($300/mo), and two additional plans targeted at Mid Market and Large enterprises, with an average price of $2/user/mo. The free trial plan has no feature limitations, enabling new users to try the platform and build a test application and fully validate its effectiveness. Unlike AppSheet, all GW Apps plans give users access to all of the features of the platform.
AppSheet pricing is based on the number of end-users for your applications. Plans start at $5/user/mo for the basic starter edition, while most business apps will require at least the Core plan at $10/user/mo. To access the platform's most advanced features (team collaboration, advanced data access, governance, etc.) require that you upgrade to the enterprise level. AppSheet offers a free plan to get you started, but it has limitations that don't allow you to properly build and test an application before you commit to the platform.
Access to live human support is an important resource to help you understand and build apps on the platform. Many GW Apps users have built complex applications with minimal support, while others have needed a helping hand from the beginning. We provide live support to all our users. GW Apps continues to invest in online support content, and we welcome your call anytime you need to get answers or help with your next step.
AppSheet is now a Google product, giving you access to a large set of resources. But larger does not always mean better. Many large organizations make it difficult to reach a live person, and want the customer to leverage all online resources or community support before allowing you to get live support and help with your application.
Data and Platform Security
Both GW Apps and AppSheet are built on the Google Cloud Platform and leverage the strong data security features that it provides: uptime, data access, stability and compliance.
Reports, View and Dashboards
Both products offer a variety of views and reports to help you and your team view and analyze data, and initiate actions. AppSheet has more view styles available, while GW Apps has a KanBan view, more detailed view display options, and a more feature-rich PDF builder.
Integration with 3rd party apps
Both platforms give you capabilities to integrate with 3rd party apps via webhooks and APIs. AppSheet has more specific out of the box integrations and capabilities (ORC and machine learning, for example).
Feature Comparison Summary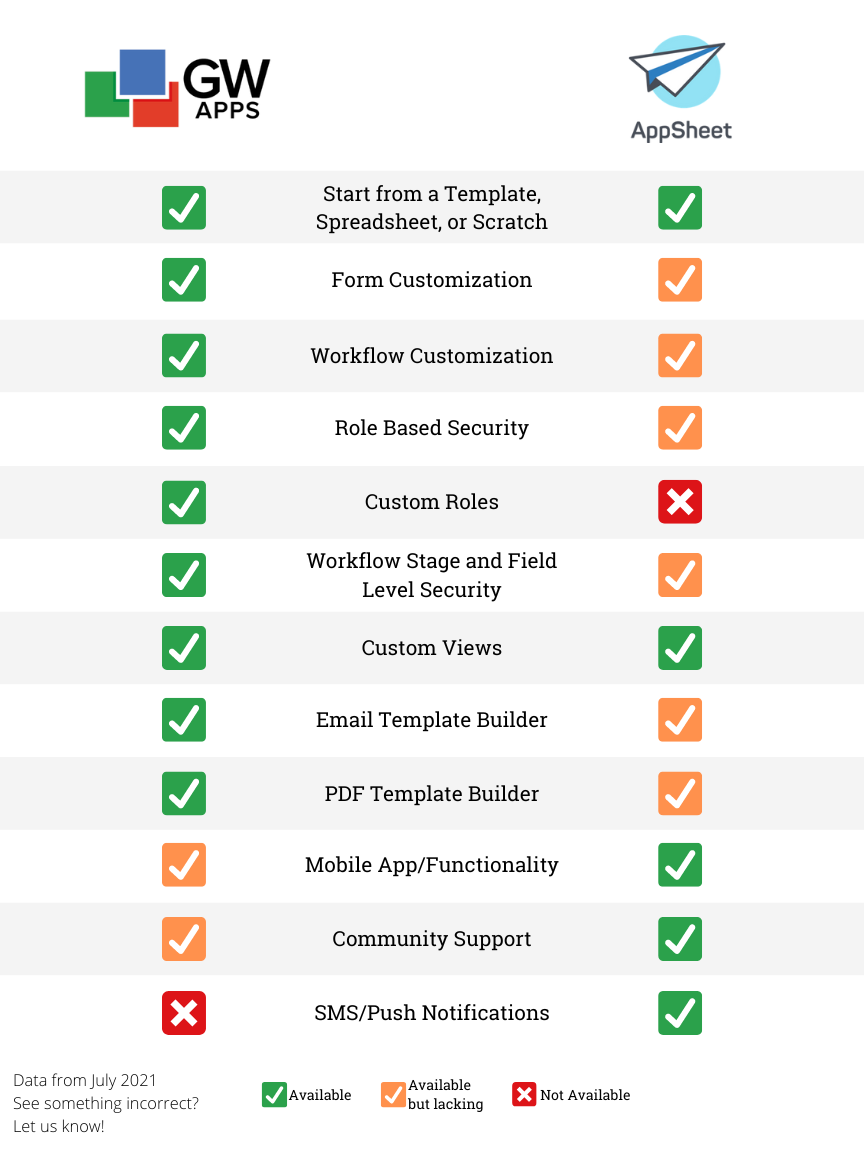 These differences in approach can often be the deciding factor in determining which product is more suitable for the application you want to build.
GW Apps real strength lies in its ability to create audit-ready applications for secure business transactions where it is vital only specific people can see or edit specific data, at specific stages in the process life-cycle. It also offers far greater control over how data is laid out in forms.
AppSheet is a very quick way to build web apps if you already have populated Excel or Google Sheets, or a SQL database to serve as the data source. It also has powerful features for mobile applications like geolocation and barcode scanning.