If you're looking for a feature-rich no-code development platform, you should evaluate GW Apps and Quickbase, as they are both excellent choices.
Form Builder and Data Model
Quickbase and GW Apps take a different approach to building the data model. In Quickbase tables are the foundation of its applications, and forms are secondary, while in GW Apps applications use forms as the way you build the data structures of applications.
A highly versatile yet easy to use form builder is a key foundation of GW Apps architecture and one of its most popular features. Its drag-and-drop approach offers a visual way for users to build their applications, with multiple layout options and lots of customizability. It's a proven platform for building applications that manage tasks like Purchase Approval, Asset Management, Employee Time Sheets, Service Requests, Requisitions or any number of typical business process use cases.
Forms can have up to 4 columns of fields, and will automatically reformat to fit different screen sizes. GW Apps also offers advanced features like tabbed or stepper/wizard style forms out of the box – other No-Code products often require plugins or a great deal of design work to build them. Forms can be created automatically by uploading existing data from a CSV file. This initial form can then be easily reformatted and extended to complete the design. Forms also offer support for multiple languages.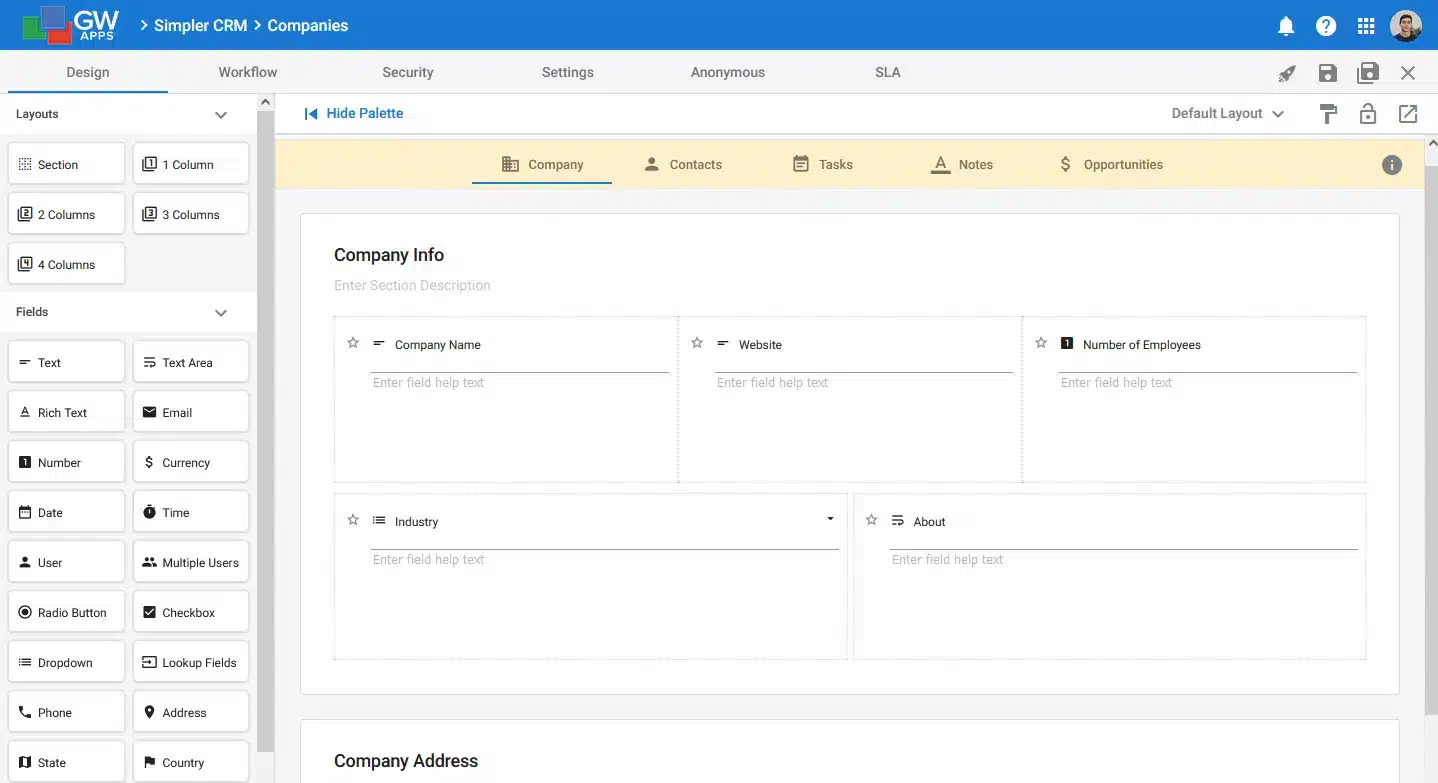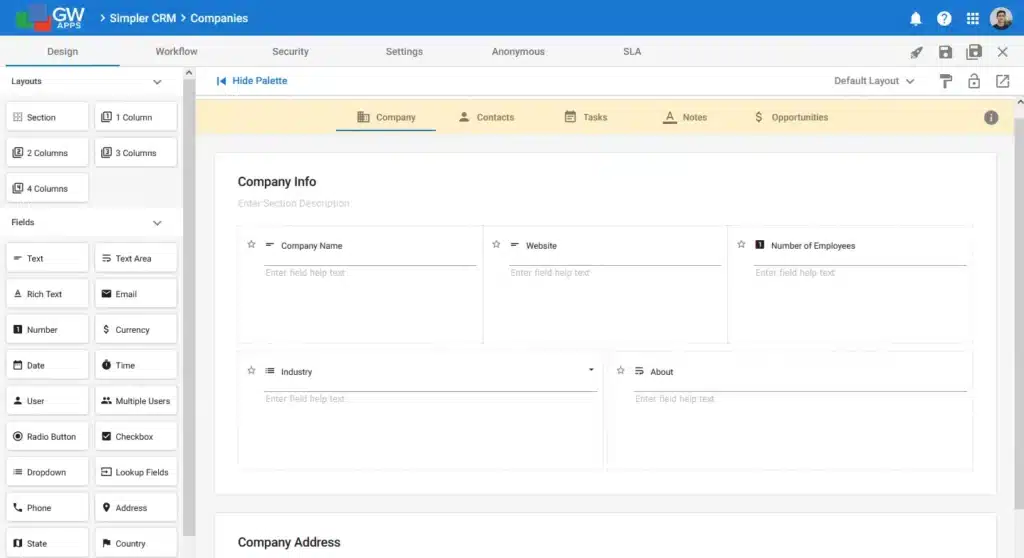 Quickbase forms have much of the same functionality as GW Apps in regards to actions and conditional logic, but they are lacking in visual customization and building. Unlike GW Apps, the Quickbase form builder is not drag and drop, and form building/customization is handled in multiple windows, making it more time consuming and complex to get the results you want. Additionally, the forms are visually plain and look outdated, and there is no out-of-the-box support for multiple languages — adding additional languages to your Quickbase apps requires a 3rd party addon.
Both GW Apps and Quickbase have similar workflow and security capabilities. This includes features like multiple levels of approval, routing, automatic and scheduled triggers, conditional actions, email notifications, granular security and more. We feel both products should be able to handle most of the common business and enterprise requirements.
Reports, View and Dashboards
Both GW Apps and Quickbase offer many choices for generating reports in table, kanban, and calendar format. At this time, Quickbase offers more visual reports types compared to GW Apps. GW Apps offers a built-in PDF Report builder, whereas creating PDFs with Quickbase requires the use of a third party add-on.
GW Apps is designed to be both easy to use and simple to learn, while providing features that enable users to build enterprise grade applications. This is achieved through the use of drag, drop, and configure style builders. Even the most complex features in GW Apps have no code, no expression language to learn, nothing but wizard style, pick from list configurations. GW Apps also includes (and continues to implement) features that are common to all types of business apps, meaning that there are no extra steps or additional costs for accessing the features you need. This includes our PDF Builder and the ability to automatically generate and attach PDFs to workflow emails, multilingual forms, a wet signature field, and more. In Quickbase these features are possible only through the use of partner created add-ons.
Quickbase has a relatively simple UI that is easy to navigate. However, some features are split across several different windows, making the building experience more complex and take extra time to both use and learn. As mentioned above, the form builder is one example of this. Finally, while the library of add-ons that Quickbase has is quite comprehensive, many features that come built-in to GW Apps must be obtained through one of Quickbase's partners. These add-ons may incur additional costs, and they also require purchasing and support agreements with these partners. However, Quickbase does offer over 800 ready-to-use app templates on Quickbase Exchange.
GW Apps offers 4 plans for businesses: A starter plan ($5/user/mo), the SMB value plan for teams of up to 100 users ($300/mo), and two additional plans targeted at mid market and large enterprises, with an average price of $2/user/mo. The free trial plan has no feature limitations, enabling new users to try the platform and build a test application and fully validate its effectiveness. Unlike Quickbase, all GW Apps plans give users access to all of the features of the platform.
The pricing model for Quickbase starts quite high. The starting plan is $600/mo for 50 apps, and this plan excludes several features/options such as custom branding. The next plan jumps to $2,000/mo for 100 apps. This plan offers access to more features, though some are still only available as add-ons for additional cost. These additional costs are not immediately clear, and Quickbase must be contacted to get a quote on the pricing. This pricing model is very expensive for smaller teams.
Integration with 3rd party apps
Quickbase Pipelines lets you integrate data across existing cloud-based software tools. Pipelines provides a way to automate your workflows between SaaS tools, such as Slack, Gmail, and OneDrive. Similarly, with GW Apps users can utilize APIs and Webhooks to sync data.
Quickbase has a more traditional, table-based approach and focuses more on larger enterprise clients, which is reflected in their pricing structure. It has powerful functionality, but has limited options for form layout. GW Apps offers similar functional capabilities, but with more flexibility in form design and an easier to use design interface. It is also targeted more toward SMB, which is reflected in the pricing, costing less than half the Quickbase price. Additionally, GW Apps offers more direct support to help you build and launch your initial application.