If you are looking for a feature-rich no-code development platform, you should evaluate GW Apps and Bubble, as they are both excellent choices, though targeted at quite different use-cases.
GW Apps is designed to help companies build web applications to modernize how they manage their business processes. If your goal is to capture, manage, and view your company data via forms, and easily create complex workflows around your data then GW Apps is a strong candidate to evaluate.
Bubble lets you build client facing apps or interactive websites with a custom, designer-grade user interface. It can be effective for building SaaS products or creating an MVP for a new business idea so you can test it with customers and investors.
Whether GW Apps or Bubble is the right no-code development platform for you depends on what you're trying to build and how much time you have to spare learning and building. In this blog, we look at the relative strengths of both products, as well as the type of applications each is a better fit for.
Form Builder and Designer
GW Apps drag-and-drop form builder offers a visual way for users to build their apps. With multiple layout options and lots of customizability, it enables users to easily build and organize highly functional forms to fit their needs. Forms can have up to 4 columns of fields, and will automatically reformat to fit different screen sizes. GW Apps can also create forms automatically by uploading existing data from a spreadsheet. This initial form can then be easily reformatted and extended to complete the design.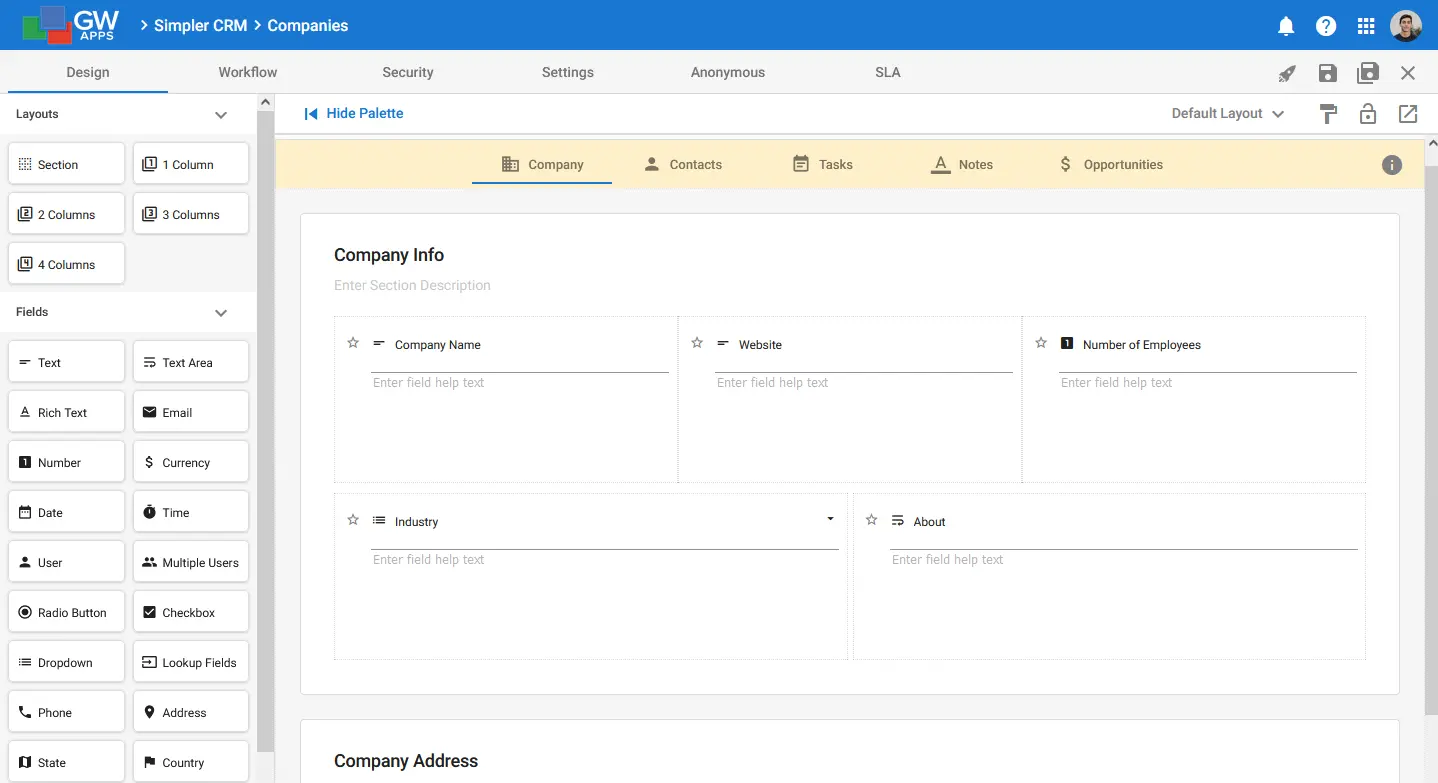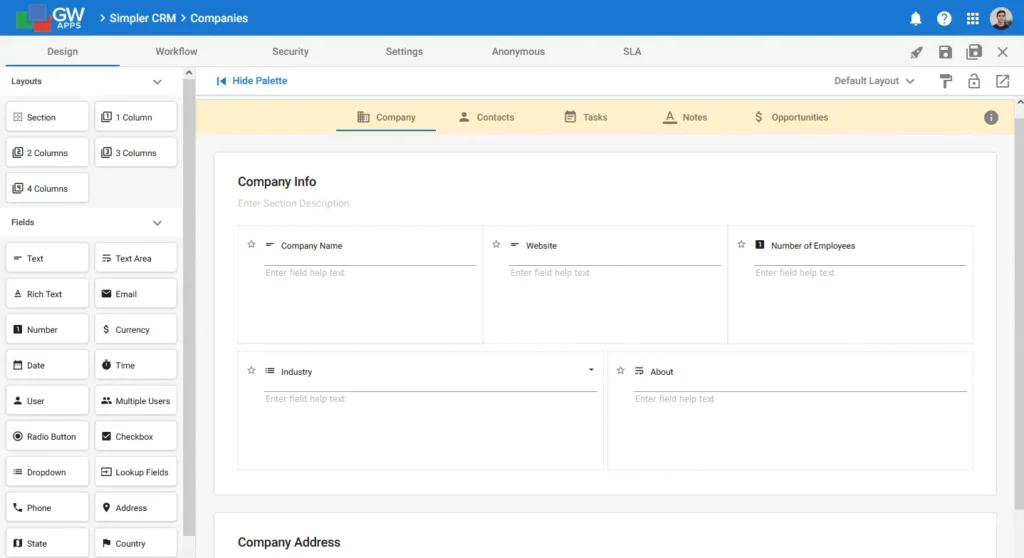 Bubble has an incredibly powerful designer that lets you create pixel-perfect web page layouts. It doesn't directly have the concept of a form, but lets you add data entry fields, buttons and data display elements anywhere on the web page that you want. This power and flexibility means that you can create almost any kind of website or application, not just traditional business forms. The downside is that it isn't optimized for any specific use case, and hence, many things that are easy and quick to do in GW Apps, can be much more complex and time consuming in Bubble.
Workflow, Automated Actions and Security
The GW Apps Workflow Builder allows you to easily model complex business processes (workflows), with features like multiple levels of approval, routing, automatic and scheduled triggers, conditional actions, granular security, and more. User permissions are controlled by custom roles, and each application has its own set of roles. Permissions can be configured all the way down to individual fields at a specific step in the process (i.e., workflow stages), as seen in the image below. GW Apps also allows you to create Shared Global Roles – roles that can be pre-populated with users and imported into any application.
Bubble's workflow builder is structured and visualized linearly. It's simple and also allows you to control front-end and back-end workflows separately. User permissions work differently than in GW Apps: Controlling permissions to specific parts of the app requires you to add custom fields to control the roles in the users database, and hide/show elements based on whether or not the user has that specific field value. Also, these just control display of page elements, and aren't really data security. To control that you will need to build privacy data rules for each data type that will need security, and combining those with the element display rules can get very complex to track and test. There is no built-in user permissions interface; this function must be built by you. This is another example of how the freedom offered in Bubble translates to an increase in learning and development time compared to GW Apps.
GW Apps is designed to be both easy to use and simple to learn, while simultaneously providing features that enable users to build enterprise grade applications. This is achieved through the use of drag, drop and configure style builders. Even the most complex features in GW Apps have no code, no expression language to learn, nothing but wizard style, pick from list configurations.
Creating a full-fledged application with Bubble could take several weeks, although users with prior web development or no-code platforms experience will learn Bubble in less time. For users with no prior experience, learning how to use the platform to its full potential is a time-consuming venture in itself. The flexibility of Bubble means that there is just more that needs to be designed and configured than the equivalent app in GW Apps.
It also comes down to which type of application you have in mind, as some are significantly more complex to build. You can, however, find templates of pre-built apps, features and functions from other users, though many of these must be purchased.
Reports, Views and Dashboards
In GW Apps the views and reporting features are all available out-of-the-box and are simple and quick to use. When you create a form, GW Apps automatically builds a starter, table-style view to match, so all you have to do is decide which columns you want to display and tweak the formatting and sorting. You can easily add column totals to numeric columns and group records by key column values to give you powerful drill-down reporting views.
GW Apps can also display your data in Calendar and Kanban view formats. It includes a dynamic PDF Builder and several reporting widgets for visualizing your data. Since these features are built-in, and don't require optional plug-ins, building data visualization is significantly easier and less time consuming than with Bubble: For example, GW Apps has a drag-and-drop Kanban view option. Bubble users can create their own Kanban board from scratch, or purchase a Kanban template that someone else has created, but there is no built-in Kanban view or free Kanban template.
Simple but useful dashboards can be built with Pages in GW Apps. There are plans underway to greatly improve this feature and add more graph types for even more ways to visualize your data.
With Bubble's massive plugin library, you can find pre-built templates for most view types and reporting features. Some may be free, others will cost extra, and any that can't be found must be built from scratch. The majority of plugins are created by a 3rd-party, so you may find that many of the free ones are lacking in some way. By extension, nearly all reporting and data viewing features that come built-in to GW Apps (e.g., a PDF Builder) must be found as plugins on Bubble. If you find a free template that suits your needs that's great, if not, you have the choice of purchasing a better one or building your own.
With Bubble's freedom and flexible plugins you can create more visually dynamic dashboards for your apps than currently possible with GW Apps, but it will be more time consuming and might lead to additional costs.
Access to live human support is an important resource to help you understand and build apps on the platform. Many GW Apps users have built complex applications with minimal support, while others have needed a helping hand at the beginning. We provide live support to all our users. GW Apps has online documentation and video tutorials, though we welcome your call anytime you need to get answers or help with your next step.
GW Apps also offers training workshops to help users master the platform. They are usually a series of four 2 hour sessions. The first 2 sessions will show the user how to build a sample application, to prepare the user to build a production ready app in the remaining sessions.
Bubble provides excellent tutorials as well as 6 week boot-camps for users who want to build more complex applications. They also provide various levels of email support depending on the plan you subscribed to. Support under the free plan is restricted to using the support community. With the Personal and Professional plans, you are entitled to email support. Finally, with the Production plan you get "priority email" support. There is no mention of a live support option.
That said, Bubble does have good online support content and walk-through tutorials to help you get started. There are also some good third party videos available.
Feature Comparison Summary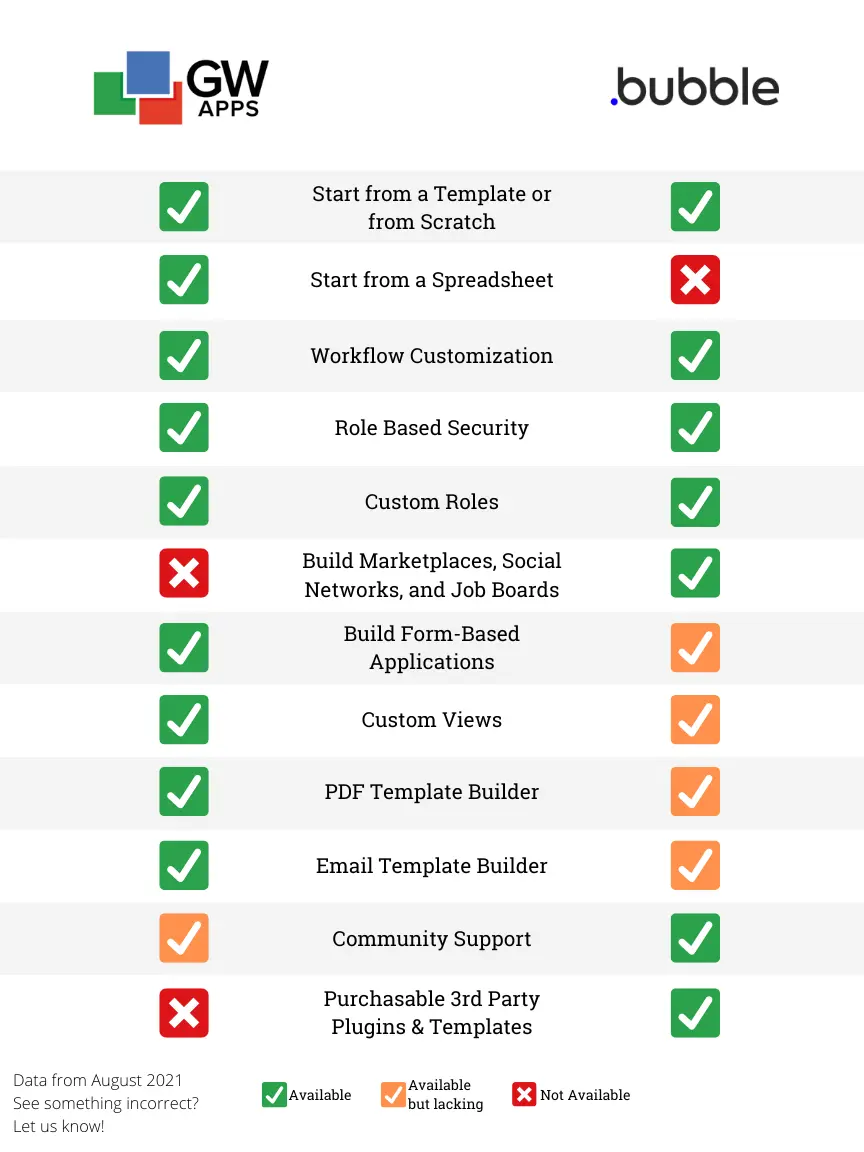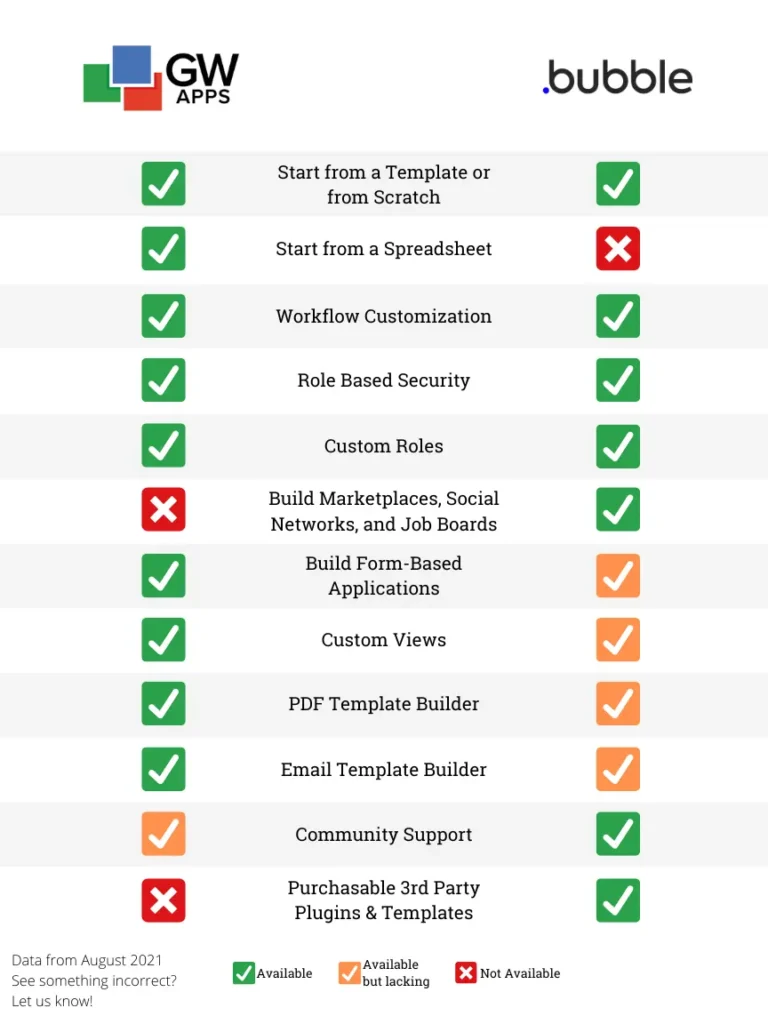 GW Apps offers 4 plans for businesses: A starter plan of $5/user/mo, the SMB value plan for teams of up to 100 users ($300/mo), and two additional plans targeted at mid market and large enterprises, with an average price of $2/user/mo. The free trial plan has no feature limitations, enabling new users to try the platform and build a test application and fully validate its effectiveness. Unlike Bubble, all GW Apps plans give users access to all of the security and workflow features of the platform, and full runtime performance.
Bubble offers 3 paid plans: a Personal plan for $29/mo which allows for 1 app editor and limited runtime scalability, a Professional plan for $129/mo which allows for 2 app editors and 3 server units of runtime scalability, and a Production plan for $529/mo which allows for 15 app editors and 10 server units of runtime scalability. Bubble also offers a free plan, but with significantly limited features and storage capacity, only community support and no way to deploy the app. There are many plugins that cost extra, either as a subscription or one-time purchase, along with purchasable user-made templates to help you cut down on development time. Some of these purchasable plugins offer capabilities that come built into GW Apps, such as the Email Template Builder and PDF Template Builder.
Both GW Apps and Bubble have a similar overall architecture. They allow you to create web-responsive applications that primarily store their data in the platform's own internal datastore. Some no-code platforms, like Airtable and Appsheet, require you to set up external data storage: GW Apps and Bubble do not. Though they both allow you to access and interact with external data, if you need to.
Data and Platform Security
GW Apps is built on the Google Cloud Platform and leverages the strong data security features that it provides: uptime, data access, stability and compliance. Bubble is built on Amazon Web Services, which has very similar capabilities.
Integration with 3rd party apps
Both platforms give you capabilities to integrate with 3rd party apps via webhooks and APIs. Bubble has more specific out of the box integrations and capabilities, as well as access to a plugin library, with both free and purchasable plugins, some of which include integration options.
To restate what was said in the introduction, which platform is better for you depends on what types of applications you're trying to build and your interface design requirements.
GW Apps core target is to build business apps as quickly and easily as possible. GW Apps makes it very simple to create audit-ready applications for secure business transactions where it is vital only specific people can see or edit specific data, at specific stages in the process life-cycle.
Bubble offers more design freedom and control, allowing you to build all kinds of web apps, even a full-functional version of the next great dot-com business. Start-ups are actually a key target market for Bubble and they seem to have the tools to serve that market well. However, if you want to build typical business process apps, with workflow and security, it will be more complex, time consuming and expensive to build them with Bubble than GW Apps.