Finding the best cloud development tools for your business can be challenging. With many vendors offering No-Code/Low-Code products, how do you choose the most appropriate one for your needs?
We're often asked about the differences between GW Apps and other No-Code/Low-Code products, and in response we've produced several product comparison whitepapers to aid in the search for the best solution for your business.
In this article we'll be reviewing two of those product comparisons, AppSheet and Google Forms, and offer a brief overview of how they compare to GW Apps.
AppSheet offers a very quick way to build front-end apps to work with existing data sources, such as a Google Sheet or SQL database. It also has powerful features for mobile applications like geolocation and barcode scanning, making it better suited for users in the field and a strong candidate for apps that involve onsite data entry like data updates or equipment inspection.
To unlock the full capabilities of AppSheet you will need to learn and make use of AppSheet's expression language. If you're familiar with spreadsheet formulas, such as those used in Google Sheets or Excel, AppSheet's expressions are similar in syntax and meaning. That said, expressions undeniably add a layer of complexity to your app building process, and many features that require expressions in AppSheet are available and simpler to implement in GW Apps.
GW Apps excels in its ability to create workflow-centric business applications by leveraging its 3 foundational strengths:
Form Builder: GW Apps' drag-and-drop form builder offers a visual way to build your applications. With multiple layout options and lots of customizability, you can rapidly build highly functional forms that fit your unique needs.
Workflow: The Workflow Builder allows you to easily model complex business processes with features like multiple levels of approval, routing, automatic and scheduled triggers, conditional actions, and more.
Data Security: User permissions are controlled by custom roles, and each application can have its own set of roles. User permissions can be configured all the way down to individual fields at each step in your workflow.
Additionally, GW Apps is a self-contained solution – as you build your form the data model is automatically created for you, resulting in fewer steps to creating an application. While there's no need for an external data source, you still have the option of connecting to your existing external sources.
Feature Comparison Summary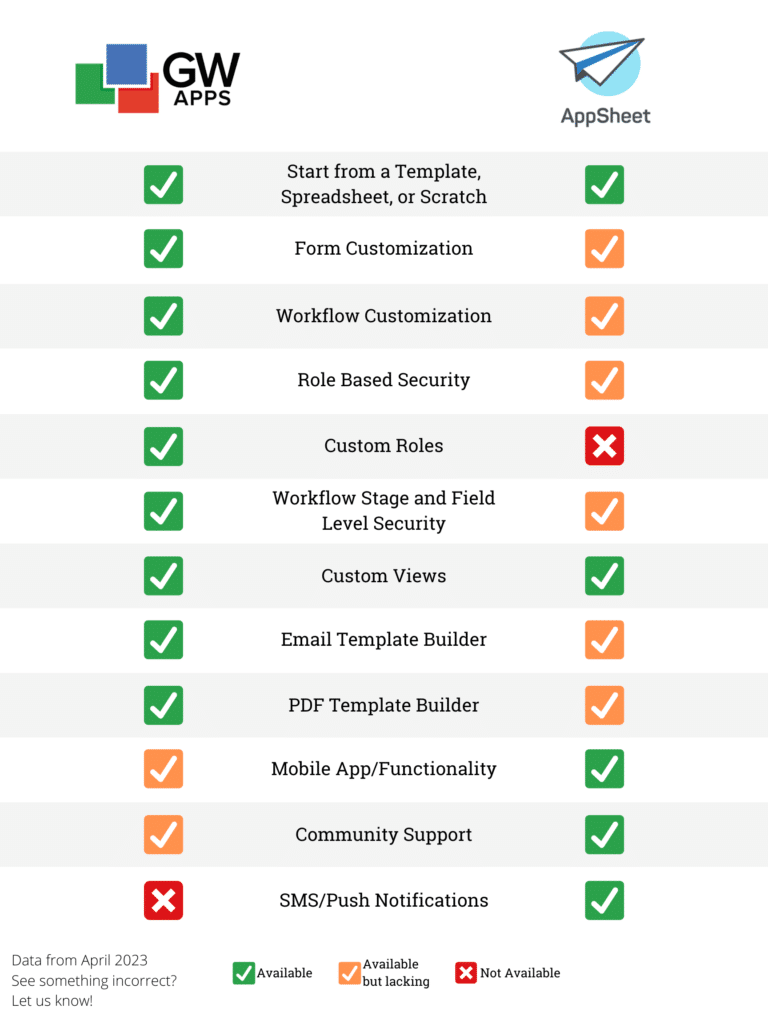 For a full comparison of GW Apps and AppSheet, including pricing, customer support, and more, check out the full comparison whitepaper below:
We have quite a few customers who reached the limit of Google Forms and are considering upgrading GW Apps or AppSheet. Here's a quick comparison of Google Forms and GW Apps.
Google Forms has helped thousands of organizations manage data. It allows anyone with a Google account to create simple forms, collect data, and share results. Google Forms works great for creating surveys, quizzes, and other simple data collection tasks. It can be mastered quickly, and perhaps best of all, it's completely free.
That said, the limitations of Google Forms are encountered rather quickly as the complexity of your forms increase. Additionally, data/response viewing options are very limited, the UI is limited to a single column, forms cannot lookup data from each other, and there are limited permissions settings.
When your needs extend beyond the capabilities of Google Forms, then GW Apps can take over. GW Apps is designed to easily support complex applications like Purchase Approval, Asset Management, Employee Time Sheets, Service Requests, Requisitions, or any other typical business processes. 
It offers more freedom, more capability, more customization, and several important additional features like workflow automation, PDF and Email template builders, flexible and fine-grained security settings, and much more.
Check out the full comparison for a more detailed breakdown of the points discussed here, along with other notable differences: